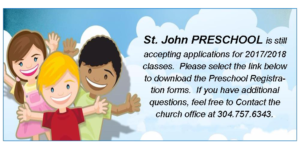 S
t. John Preschool, directed by Joy Spratt, is celebrating its 24th Anniversary this year which began in September 2017. The preschool operates from September through May and follows the Putnam County School Calendar.
The school offers a rich variety of experiences for 3 year olds on Tuesdays and Thursdays from 9:30 until Noon, and for 4 year olds on Mondays – Thursday from 9:00 a.m. till 12:30 p.m. We believe we have some of the best Preschool staff around. We are so blessed to have Ms. Joy as our Director and we know your child will benefit from being a part of our program.
Thank you for visiting our site and for your interest in our Preschool. We hope to hear from you concerning enrollment into our program. If you have questions or would like to visit our Preschool before making your decision, please contact our office to make arrangements.
If you decide to enroll your child, please select this link to download the ENROLLMENT PACKAGE 2018 AND 2019
Please complete these documents and either mail or hand-deliver them to the church office.
For more information, please contact the church office at 304-757-6343.