If you grew up not going to church or not hearing anyone talk much about Jesus, then we'd like to introduce you to Him. You may not know Him, but we can assure you that He knows you.
How Can You Meet Jesus?
If you believe that Jesus is the risen Son of God and His word is true, you are ready to meet Him personally. You can now open the gift of salvation He died to give you.
These are the biblical facts that make it possible for you to have a personal relationship with God:
God loves you.


He created you and wants to have a personal relationship with you now on earth and eternally in heaven. John 3:16; Ephesians 2:4-5.

Sin has separated you from God.


The Bible defines "sin" as choosing our will over God's. We have each made this mistake. Romans 3:23. Our sins have now separated us from our holy God, and he cannot allow us into his perfect heaven. Instead, we are each destined for an eternity separated from God in hell. Revelation 19:19-21.

You cannot repair your broken relationship with God.


Many people think we can be good or religious enough to earn God's forgiveness and go to heaven when we die. But the Bible teaches that the only payment for sin is death. Romans 6:23; Ezekiel 18:20. Someone must die for the sins we have committed.

Jesus died to pay the debt owed by your sins.


Since Jesus was sinless and owed no debt to God, his death could pay for our sins. He took our place on the cross and suffered the penalty we deserved. His death now makes it possible for a righteous God to forgive our sins and offer us salvation. Romans 5:8; 2 Corinthians 5:21; 1 Peter 2:24.

You must receive the gift he died to give.


Now you must choose to trust in what Jesus has done for you rather than trusting in your own efforts to restore your relationship with God. In faith, rely completely on Jesus to make you right with God. Confess your sins and mistakes to God, and choose to live by His word and will. Decide that you will make Jesus the Lord and Master of your life.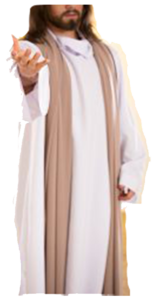 Make Your Decision
So you've read the facts and now you're faced with a decision. Do you believe it all? Do you trust that God provided a way for you to be with Him forever? Do you believe that He loves you that much?
These are big, life-altering decisions. Eternity-altering decisions! If you still have questions and want to talk some more with someone about this, we'd love to talk to you over the phone or through e-mail. Call the church at 304-757-6343 and ask to speak with Pastor, Teresa. Or you can e-mail her directly at markinsfam@gmail.com.
You can also wait and think about it for a bit. Come to church with us, see what it looks like to live a life following Jesus. Learn more, talk more, ask more – we would love to see you.
But if you've felt something click into place in your soul after reading all this, if you feel ready to accept this as truth, then you simply open this gift by talking to God. It's called prayer. There's no right or wrong way to talk to God. There's no ritual to follow or magic formula to figure out. You need only pray with a sincere commitment of your heart and life, with the intent of following through on what you believe. God is listening . . . He's always listening. This prayer means you are trusting God and Jesus with your life. Here's a guide for you to follow:
Dear God,
Thank you for loving me. Thank you that Jesus died on the cross to pay the penalty for my sins and failures. I admit to you that I am a sinner, that I need you to save me. I ask you to forgive me for my sins. I turn from them now. I invite Jesus into my life as my Savior and Lord. I turn my life over to him. I will live for him as long as I live. Give me the Holy Spirit to change me in to the person you want me to be. I truly mean this. Though I will surely fail at some point, I believe that you will never fail me. Thank you for giving me eternal life and making me a child of God. Amen.
If you just prayed that prayer and meant it, you are now a follower of Jesus, a Christian. Please tell someone about your decision! Christianity cannot be lived alone. Share your new faith with someone you trust, and with a church where you can grow in your commitment to Christ. If you are making this life-changing decision, or if you want help to understand how to follow Jesus, please contact our church office at 304-757-6343 or contact us at www.sjumcwv.org.
Now What?
You may not feel any different yet, but faith and feelings don't always agree with each other. It's okay if fireworks don't go off or you don't hear God's audible voice or you don't hear a choir singing "Hallelujah." You have a new life. Jesus said it. Trust God, not feelings.
You're still going to sin. Becoming a believer doesn't mean you become perfect, it just means that God sees you that way – and yes, we aim for perfection, but, we will never be perfect until we are present with God, the Father. It's like putting on a clean white robe over dirty clothes. Jesus is the robe that God sees when he looks at you. You're still going to sin, but remember that gift of the Holy Spirit? He's there to help you clean up so that you get closer and closer to looking like a clean white robe, like Jesus.
You've just entered into a new relationship. With God, Jesus, and the Holy Spirit. Like all relationships, if it's going to thrive and become stronger, you need to spend some time on it. You can talk to God and Jesus and the Holy Spirit through prayer, anytime, anywhere. Listen to what they have to say to you. It may not be audible words (or it might), but it could be a feeling, something you read, or even a person you bump into that suddenly has the answers you were looking for. Take these as gifts from God, His way of talking to you. Read a Bible, often. The Bible is God telling us about himself. Listen to music about God, sing to Him, spend time with others who feel as you do, get involved in helping others, find a church to belong to. All these things will grow you in your relationship with God. Welcome to 'the family of God'.